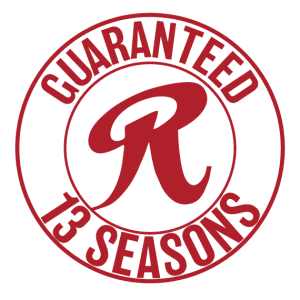 With the rising cost of athletic equipment, we understand that every purchase for an athletic program is an investment. That's why we offer a Twelve + One Year Guarantee* against manufacturing defects on every piece of equipment bearing the Richey name. That's a full Thirteen Seasons of jumps with complete peace of mind. Richey Athletics produces the best equipment in Track & Field, demanding the industry to meet OUR standards… THAT'S the Richey difference.
*Full Terms of Warranty.
Our warranty guarantees the materials and workmanship of our equipment to be free from defect for thirteen (13) full seasons of competition. We resolve ANY issues within this time frame that arise as a result of a failure of either of these two inputs.
This Guarantee covers defect as a result of regular wear during athletic competition, acknowledging a level of normal "wear and tear" associated with outdoor athletic equipment. Instances of "normal wear and tear" are defined at the sole discretion of Richey Athletics, limiting repairs to issues that would impede the use of equipment beyond the limits of safety during the period of warranty.
Damage incurred due to rodents, weather, mishandling, or misuse (whose definition is the sole discretion of Richey Athletics), is not covered under this warranty and may void the warranty completely. Any damage caused by rodents, weather, mishandling, or misuse may result in the uncertain performance and/or future safety of any Richey product. These instances are handled on a case-by-case basis. This guarantee does not protect against injury, or any injury incurred during competition or which results from using damaged equipment or improperly using any equipment, damaged or undamaged. This guarantee does not extend to a landing system weather cover as it is a means of validation to our warranty. The weather cover is covered by a 5 year guarantee (industry-leading) with the same stipulations mentioned above, only differing in the length of guarantee.